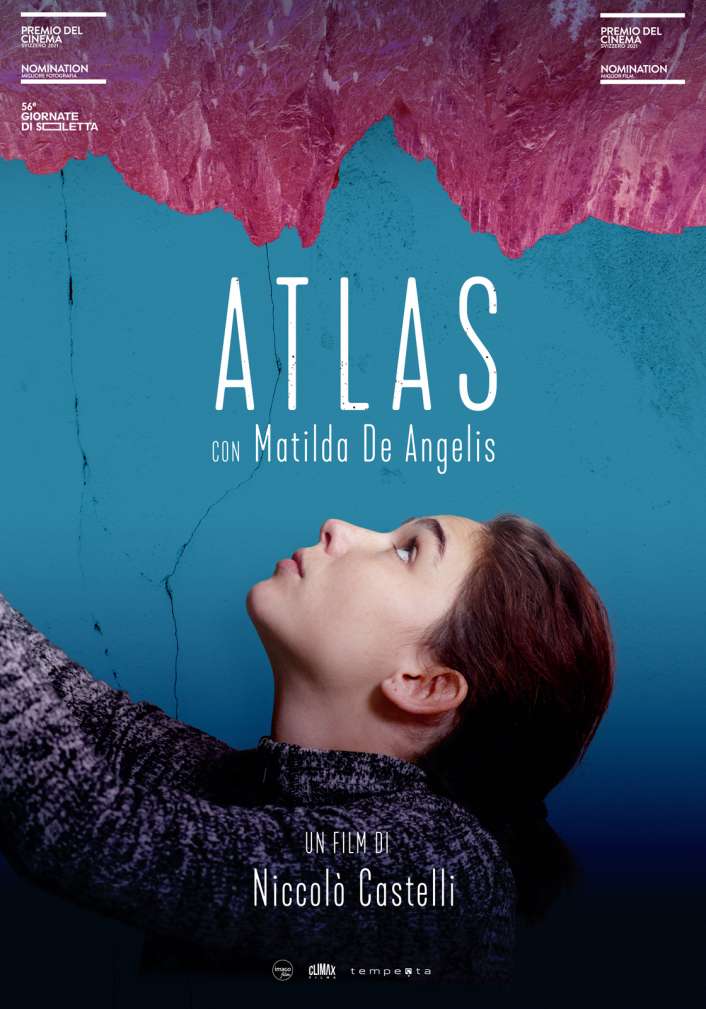 Titolo: Atlas
Anno: 2021
Regia: Niccolò Castelli
Durata: 88'
Colore: colore
Versione.: italiano
Sottotitoli: fra, deu, eng, port, span, mk, cin
Doppiaggio: deutsche Synchronfassung
Sinossi
ITA: Appassionata di arrampicata, Allegra è vittima di un attacco terroristico che costa la vita ai suoi amici. Annientata dal senso di colpa e dal desiderio di vendetta si ritira nella sua solitudine. I suoi cari sono impotenti. Così, per tornare a godere della vita Allegra deve intraprendere una lunga lotta contro se stessa. In questo contesto incontra Arad, un giovane rifugiato del Medio Oriente: la fiducia nel diverso rimane un difficile ostacolo.

FRA: Passionnée d'escalade, Allegra est victime d'un attentat terroriste qui coûte la vie à ses amis. Rongée par la culpabilité et le désir de vengeance, elle se replie sur elle-même. Ses proches sont démunis face à sa souffrance. Pour redevenir la jeune femme qu'elle était, Allegra doit mener un long combat contre elle-même. Dans ce contexte elle rencontre Arad, un jeune réfugié du Moyen-Orient. Mais faire à nouveau confiance s'avère difficile.

DEU: Die Kletterbegeisterte Allegra wurde Opfer eines Terroranschlags, bei dem drei ihrer Freunde ums Leben kamen. Von Schuldgefühlen und Rachegedanken geplagt, zieht sie sich in ihre Einsamkeit zurück. Ihre Lieben sind machtlos. Um zurückzukehren und das Leben wieder zu schätzen, muss sie einen langen Kampf gegen sich selbst führen. Vor diesem Hintergrund trifft sie auf Arad, einen jungen Flüchtling aus dem Nahen Osten. Doch es fällt ihr schwer, das Vertrauen in das Fremde zurückzugewinnen.

ENG:  Passionate for climbing, Allegra is victim of a terrorist attack, in which her friends lose their lives. She isolates herself after crushing fear towards people and a burning desire for revenge start devouring her. Her beloved ones are helpless. In order to be able to go back enjoying her life, she will have to face her inner struggles. In doing so, Arad – a young refugee from Middle East – crosses her path. Allegra's greatest challenge will be regaining trust, especially when the element of diversity is involved.
 
POR: Allegra é unha moza vivaz que se criou na zona de fala italiana na tranquila e pací ca Suíza. Ten tres grandes amigos que comparten a súa paixón polo montañismo. Un día deciden viaxar a Marrocos para chegar á cima do Atlas, pero a súa viaxe remata abruptamente cando un terrorista fai explotar unha bomba nunha cafetería e os seus tres amigos morren no ataque.
Meses despois, incapaz de superar o trauma, decide deixar á súa familia e regresar á cidade para volver traballar. Alí, o encontro con Arad, unha rapaza refuxiada de Oriente Medio, obrígaa a afrontar a súa percepción da realidade, os seus medos e curar as súas fondas feridas internas.
Candidata a mellor película e mellor fotografía nos Premios do Cinema Suízo 2021