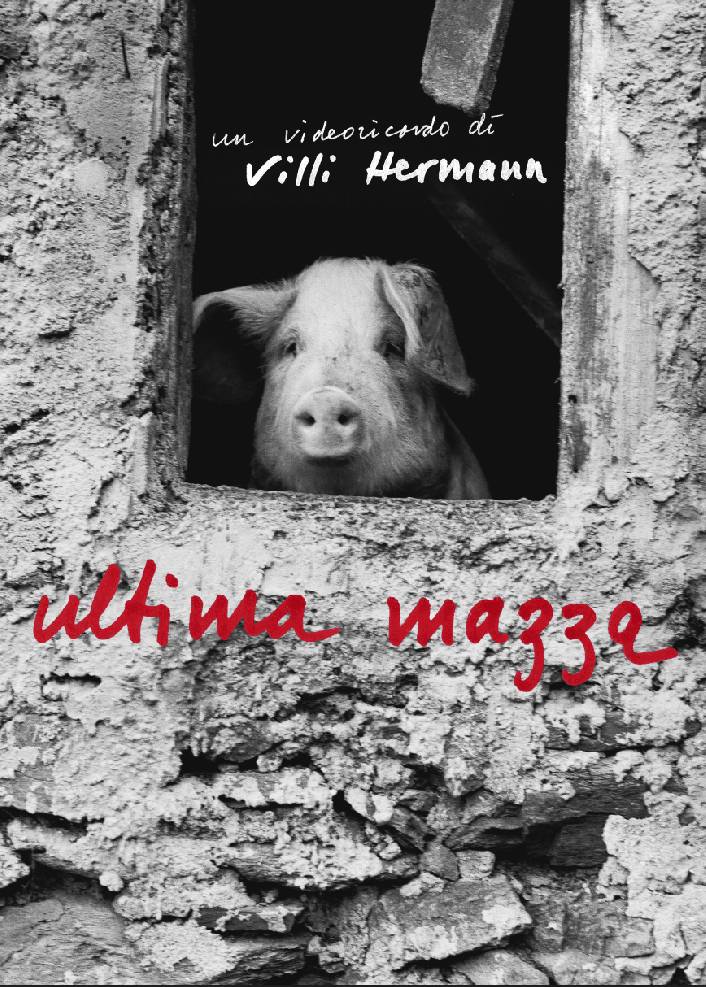 Titolo originale: Ultima mazza
Titolo: Le dernier tue-cochon (FR), Letzte Dorf-Metzgete (DE), The Last Pork Slaughtering (EN)
Genere: Documentario, Computer Graphic
Versione: italiano
Sottotitoli: English
Anno, durata: 2021, 10' min
Regia: Villi Hermann
Sceneggiatura: Eve Martin, Villi Hermann
Formato: HD, DCP
Colore: b/n
Formato immagine: 1:1
Produzione: Imagofilm Lugano
In coproduzione con: RSI Radiotelevisione svizzera
Con il sostegno di: Succès Passage Antenne
Distribuzione: Imagofilm Lugano
Diritti: Imagofilm Lugano
SUISA: 1617942
ISAN: 0000-0005-BCB5-0000-3-0000-0000-S
Sinossi breve
Nel 1970 ho documentato l'ultima mazza del maiale nella piazza del mio paese, a Beride, nel Malcantone. Un videoricordo.
Sinossi
IT Ogni anno a Beride, nel Malcantone, si svolgeva la mazza del maiale, un rito paesano che durò fino al 1970. Ho documentato l'ultima mazza nei vicoli del mio paese.
Durante il confinamento ho ritrovato le fotografie della mazza, le ho disposte sul tavolo della cucina e con i miei amici ho creato un film virtuale, lavorando a distanza. Una sfida nuova per me, cineasta che ha iniziato l'attività con la pellicola.

EN While tidying up during the lockdown 2020, I found photos I had taken during a day spent with the butcher peddler in my village shortly before they decided to stop for good in 1970. I spread the photos out on our kitchen table and filmed them with my smartphone. Based on this sketch, I created a totally virtual film with three friends, also confined to their homes.
Collaboratori
Regia: Villi Hermann
Sceneggiatura: Eve Martin, Villi Hermann
Testimonianze: Testi letti e calligrafati da Alberto Nessi
Montaggio suono e mix: Studio Puccini, Vacallo
Musica: Zeno Gabaglio
Produzione: Imagofilm Lugano
In coproduzione con: RSI Radiotelevisione svizzera
Produttori: Villi Hermann (Imagofilm); Silvana Bezzola Rigolini (RSI)
Fotografie: Villi Hermann, Ivo Kuthan / Computer Graphic: Alain Rordorf / Consulenza artistica e 3D: Alberto Meroni